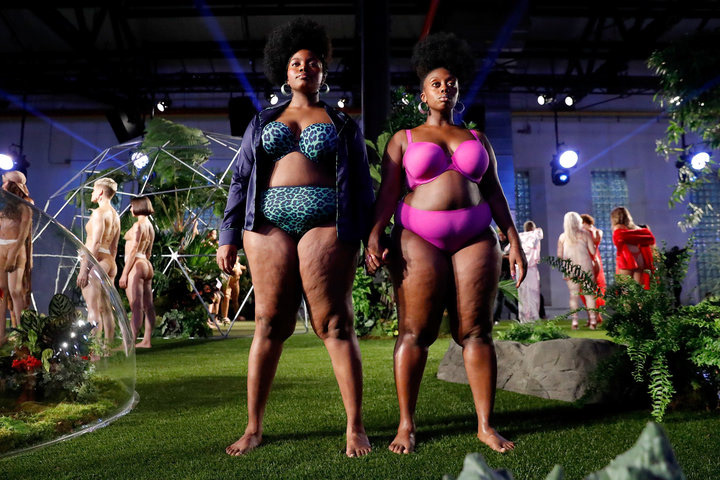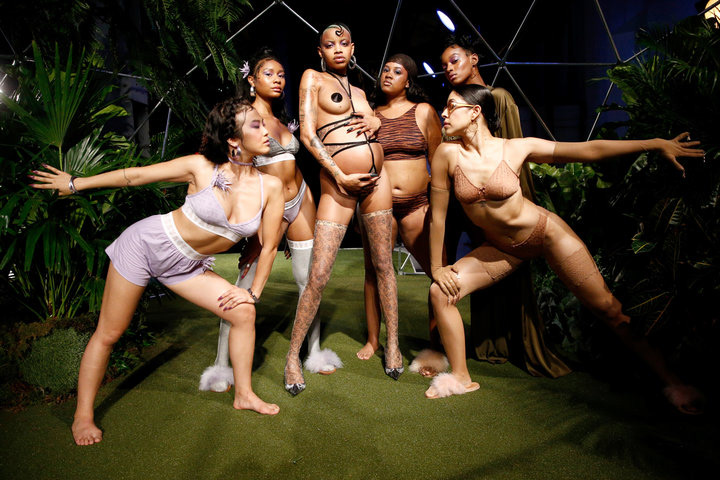 Rihanna's The World of Savage x Fenty Fashion Show 
For her Savage x Fenty Lingerie Show, which took place in Brooklyn's Navy Yard, Rihanna eschews the traditional catwalk for a theatrical stage production straight out of Broadway. In this dimly lit scenery, a greenhouse made of glass serves as the focal point with mounds of green pastures, a pond, and erect igloo-like structures surrounding it; the Garden of Eden comes to mind. Except in this garden, Adam is nowhere to be found. Women run the cradle of life.
Models of all shapes and sizes and color, wander aimlessly before enveloping the stage with the Hadid sisters leading the pack. Suddenly, the ethereal music playing in the background is replaced by an African beat and some of the models go into a stereotypical frenzy. For the next fifteen minutes, the flow of the show goes from calm to primal with each new musical stanza not to mention the interplay of Lamaze-like poses -- some of the models are pregnant.
As for the fashion, Rihanna's leaves little to the imagination. The collection is a myriad of subdued camis and pajamas to sheer body suits with visible heart pasties to laced bras and panties accessorized here and there with fringed or feathered gloves and flowy headwraps. Never mind all that, the show is a celebration of life, beauty, inclusion and body positivity. A very pregnant Slick Woods, insta-girl model extraordinaire, wears the collection's most daring piece – a black, bra and bodice-less, laced body suit full of strategically-placed cutouts with black pasties and laced fishnets to boot. The piece accentuates and reveals all of her unconventional beauty – bald head, gapped teeth, minimal makeup, and tattoos.
As the show concludes, the models line up to take their final curtain call and lock hands. Rihanna enters the stage dressed in a drab, form-fitting cami sheath dress with matching veil. She reveals herself as if to say, "God is a woman and here are her beautiful creations." The future is female.